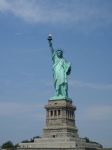 Due to the proximity of New York City, we arrange a two-day one night trip to the Big Apple, the greatest city in the US. The American host brothers and sisters are invited to come and share in this unforgettable experience and host parents may chaperon.
The trip usually occurs between the second and third weeks of the stay. We go shopping down 5th Avenue and Times Square, see the skyline of skyscrapers, including the Empire State Building, from the Top of the Rockefeller Center, and get close up to the Statue of Liberty on an exhilirating and entertaining speed boat ride. We have also done a city tour and the wax museum.
The trip begins in the early hours of the morning in Vermont. As we travel south we pick up more students and host children. We arrive in New York City around noon and spend the day in the city. We leave the following day late afternoon.
Note: Due to difference in numbers every year the New York trip is subject to change in the activities we do.