CULTURAL DIFFERENCES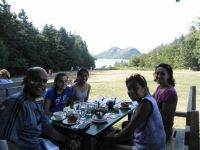 PLEASE AND THANK YOU.
In English speaking cultures, the words "please" and "thank you," are very important. We advice our students to use them often. They show respect and appreciation for the family, which is what they deserve for opening their homes and sharing their summer vacation. In our opinon, you can never say them enough while there.
If they are not used, students may come across as rude, assuming and ungrateful.
In Spanish culture, these words are not used as much, and especially in a family environment. Your host child may easily forget to say them when you expect it.
.
PHYSICAL CONTACT AND SPACE
In Spain, affection and comfort is often expressed through physical contact, an embrace, or a rub on the shoulder. This may sometimes make someone from an English speaking culture uncomfortable. Also, accidental contact is accepted as common. So where an American might expect to hear a "sorry" or "excuse me", a Spanish person may say nothing.
EATING TIMES
In Spain, the big meal is generally lunch, around 2 PM, while in America it is much smaller. Spanish students sometimes feel hungry shortly after eating lunch in the States and don't have the confidence to ask for a snack.
They also generally stay up much later at night, eating dinner between 8-10.