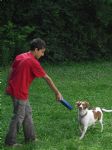 Host families are expected to treat our students as another member of their family, meaning that they are to be included or at least asked to take part in the activities of the family, especially those of the host brother or sister. The child should not be left on their own or excluded. It is important that all family members are willing to take in the student.
As they are treated like another member of the family, it is appropriate that the family communicates the rules of the house for the student to follow, which may include daily chores, small jobs or helping around the house. This also applies to rules of any activity the student may do in the community.
The primary house language must be English.
HOST FAMILIES ARE NOT EXPECTED TO
take the student on excursions beyond their normal summer activities. Of course they are free to do so, and many host families enjoy rediscovering things to do in their local area**
pay for regular outings for the student. They bring their own spending money.**
host other foreign children or send the Spanish child to spend time with other host families.
provide a private room for the student, though they may if they are able to.
If you have any questions concerning these expectations, please do not hesitate to contact us.

** Since we are no longer organizing the group trip to New York City, host families are expected to use part of the increased stipend to take the student on a short day trip or activity that is either on our list of recommended places to go or is approved by Homestaysusa.