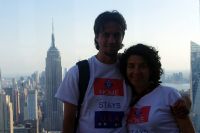 HomestaysUSA is run by Paula Garcia and Joe Bock, a husband and wife team who have traveled extensively throughout Spain and the US and have ample personal experience with homestays and host families. They started HomestaysUSA with just 6 students in 2008 and now regularly organize stays for over 30 children a summer. They have two daughters and one son and reside in Easthampton, Massachusetts; USA.
Paula was born and raised in Bibao, Spain, but has lived her entire life in contact with the English speaking world. Raised to speak English with her mother, she also lived in England with her extended family and attended English schools for parts of the year as a child. She graduated from St-George's English School in Lejona, then went to "The University of Deusto" with a degree in English Linguistics. She has also studied abroad in Irish and Scottish Univesities. She returned to St-George's as an English teacher and also helped out with homestays to England. In 2003 Paula went to Brattleboro, Vermont to study for a Master's in Teaching English as a Foreign language at the School for International Training, (SIT). While there, she made connections with fellow students and teachers in the New England area to develop this homestay program.

Joe was born and raised in Connecticut and studied English Literature at the University of Connecticut, where he also taught English as a Second Language. Later, he went to Barcelona to get a Teaching English as Foreign Language (TEFL) Certificate. After teaching in Valencia, he also went to SIT in Brattleboro,Vermont, where he studied for a Master's in TEFL. While there, he also continued his Spanish studies and lived in Mexico with a host family for two months. At SIT he met Paula and later moved to Spain, where lived and taught English for over 6 years. He has taught various ages from young children to professionals at several language schools, including St-George's English School and St. George's English Academy.
As both the organizers have worked closely with St.George's English School, much of the program is based upon the same philosphy of the instituion, which has over 55 years experience of successful English language and cultural instruction. For more information about the school, visit st-george.com.